Dramamine® Non-Drowsy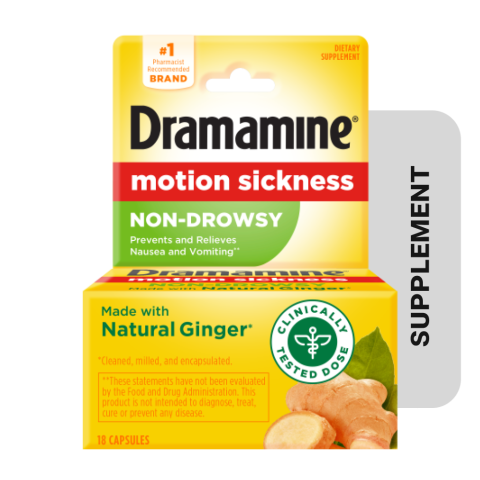 Dramamine® Non-Drowsy
Dramamine® Non-Drowsy is Dramamine®'s first truly non-drowsy offering.
Contains the clinically tested ginger dosage required for preventing and treating motion sickness. Other sources of ginger, including candies, gums, or ginger ale, may not contain a full clinical dose.
Prevents and treats the symptoms of motion sickness* (nausea and vomiting) without drowsiness.  
Dramamine® Non-Drowsy Is safe to use every day you travel since it's made with natural ginger**.
Available in an 18-count bottle.
*These statements have not been evaluated by the Food and Drug Administration. This product is not intended to diagnose, treat, cure, or prevent any disease.
**Cleaned, milled, and encapsulated.
Take the appropriate dosage ½ hour before starting activity or when you experience symptoms to help prevent or relieve the nausea and vomiting associated with motion sickness.*

Adults and children 12 years and older: Take 2 capsules; do not take more than 4 capsules in 24 hours.
Children 6 to under 12 years: Take 1 capsule; do not take more than 2 capsules in 24 hours. If you have difficulty swallowing capsules, you may open the capsule and pour onto a spoon or into food or drink.

*These statements have not been evaluated by the food and drug administration. This product is not intended to diagnose, treat, cure or prevent any disease.

Active Ingredient (in each tablet)

Ingredient: ginger (zingiber officinale) (root)
Ginger: 500mg

Other Ingredients
Gelatin, vegetable magnesium stearate, silica